Way hey – a non-baby post! I have the glories of two exchanges to show off today.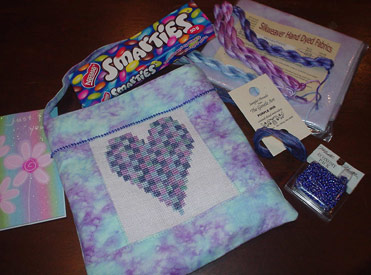 Melanie's Exchange, much as it wanted for a better name, was an exchange I moderated on the SBEBB. An interesting kind of exchange – the first part entails sending a specialty thread and embellishment of some kind off to somebody. For the second part, you stitch a design using the thread/embellishment you receive in part 1, to send to a different somebody. Um… clear as mud? Anyway, for part 1, I received a Weeks Dye Works floss and some lovely beads from Chiara, with which I stitched this heart (which is part of a freebie by Liberty Street Designs for Thread Gatherer). I made it up into a little treat bag (clickety-click for more details) for Heather. The pics come courtesy of Heather, since it completely slipped my hormonal mind to take any!

Also, yesterday's mail brought my second package with it. I received my stitched piece from Paula. Paula designed this herself – a lovely needlebook and matching scissor fob (clickety-click to see). I love it! See the inside here, and the extra goodies here.

I also have pictures to share of a scissor fob I sent to Linda in an exchange between the Aussie TWBBers (clickety-click again for the details). I stitched the corner motifs from TW's Castle Sampler, one on each side of the fob. I really had a hard time parting with this, I must stitch the same for myself one day. It was nice to be stitching something by Teresa again, it's been a while.
Coming up next on my exchange calendar is the Friendship Exchange. My partner is Leslie, and I've come up with something I think/hope is perfect for her. I had to order it in, hopefully it gets here soon and I can make a start. After that, another scissor fob exchange, on the Rotation BB. After that… I need to take a break from 'obligation' stitching, because Small will be here, and I'll be doing my best to rejoin the ranks of humanity!