So. I decided to set myself a challenge. To blog every day in October. Yeah – I kind of missed the 1st. Oops 😳 I'm planning to cheat, and blog the 1st retrospectively. Since I'm setting the rules of this challenge, I figure I can get away with that! Check back later!
Actually, there's a super good reason I didn't blog yesterday – I was stitching. Hooray! I made a really good start on Claire's UFO. I'm participating in the current UFO round robin – my first round robin, and I have to say, this is a completely fantastic idea – Noah's Journey is my UFO, which has been sent on, uh, a journey(!) around the world to be stitched on by some wonderful BB friends, to return to me some time next year in a much 'furthered' state, hopefully to then be finished and framed for Finn's room.
I saw this design (see whole thing here) as a stitched model in my mum's LNS a few years ago, and she bought the chart for me. I started this when Finn was one, meaning it to be a kind of commemorative birth piece. I should have remembered how much I loathe Dimensions charts.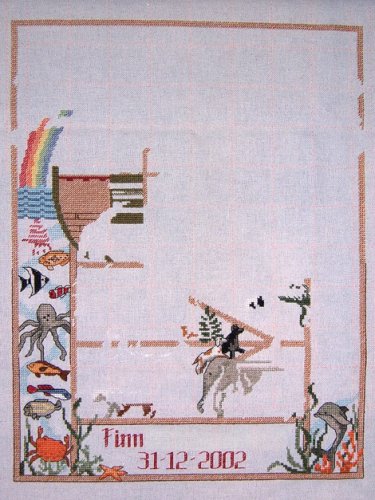 Needless to say, it has lingered in its unfinished state for far too long – Finn will be four in December! I figured I wasn't ever going to finish this without help, so here we are. I hope everyone in my group doesn't hate me after they've had to stitch from this disastrous chart :giggle:
Clickety to see what it looked like before I sent it off to Tracey. (Finn's name is actually all there, just edited for privacy).
Tomorrow: I will get to that meme Erin, haven't forgotten 🙂