So, forever ago, Mothers' Day happened. Remember? I kept meaning to tell you about mine, because it actually was pretty darn perfect, as far as Mothers' Days go. Then time slipped away from me (as it does), and I thought it was probably beyond reasonable. But I've since remembered that Finn actually documented the day, and so here, in his words, is our 2009 Mothers' Day:
We went to the Yarra Valley Dairy and we had some dairy foods. Then we went to a winery. Mum and Dad tasted some wine. Then we had some food at a café. My sister and I had ice-cream and Mum and Dad had scones, jam and cream. I had lemonade and my sister had pineapple juice. Mum and Dad had coffee. Then we went home. We had a great Mother's Day!
He forgot a couple of things – like the perfect bedtime the night before (all three – no tears – a feat that has not been repeated), Rohan treating us to the best night of his four-week-life, the wee bit of fabric shopping in Healesville (fabrics shown in this post), and the foray into Kennedy & Wilson in search of chocolate-y goodness. But I think he captured the rest of it perfectly… I wonder when he'll want his own blog?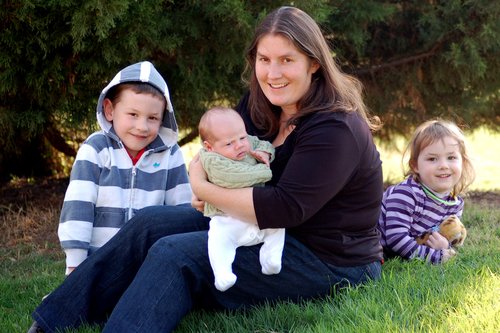 (I don't like this photo of me a whole lot, but I'm taking to heart the recent advice of Miz Booshay and "getting in the picture". There are so few photographs of me with my kids, and I'll regret it later, I know. I need to just get over my issues. At least in this one, three out of the four of us are actually looking at the camera. Rohan can be excused just this once 🙂 )