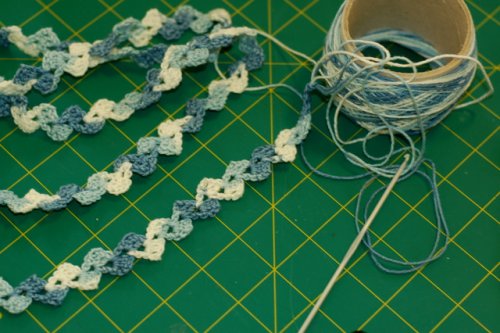 In the left corner we have Beauty: crocheted ric-rac, inspired by Kate at Fox's Lane; quick and easy tutorial found here. Fun, easy, and slightly addictive crocheting. No idea what I'll be doing with it yet – I did threaten the bemused other half I'd trim a lampshade in it!
And in the right, the Beast: product of an impromptu knitting lesson with Mum yesterday. The change in the seasons has started up the two-needle-itch again, and I want to be ready for something a bit trickier than my one completed knitted thing.
Ugly, isn't it?! But hey, there's increasing, decreasing, short rows, a wee bit of lacy stuff, heel stitch, 1×1 rib, and picking up stitches along the edge, all in that little piece of ugly!
(Edited to say I realise that sounds like I meant Ro's cardigan is ugly. No no, I actually meant the grey thing just up there. The cardi is still gorgeous, but I bet it doesn't fit anymore)
Also in my creative space today are some little bits of not-allowed-to-show-you and a whole lot of nothing-to-see-here-but-supposed-to-be-finished-by-Sunday. (Because a certain wee someone we know is about to be one, and don't mention it to me or I might just cry!)
My Creative Space comes to you courtesy of Kirsty!