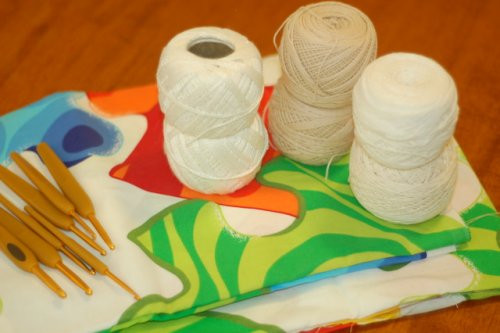 My creative space today is once again a study in jostling priorities. I have a bad case of can't-decide-what-to-do-next-itis. The knitting bug is still about, after finishing off a beanie for Rohan at the weekend – I'd like to do something lacy, perhaps this (Ravelry logon necessary for that link)? The dyeing bug is biting once more as well, since a visit yesterday to my local Savers yielded all this crochet cotton, which is just crying out for a colour-makeover; and the crochet bug is also still on the loose, since Mr. Ebay kindly delivered my new crochet hooks, which will hopefully be kinder to the once-broken wrist than my regular hooks have been lately. (I'll no doubt be satisfying the dyeing and crocheting urges in one hit, since the dyed cotton is destined for more ric-rac)
But what I really really am supposed to be doing, is sewing. The fabric beneath my goodies is leftovers from a friend's kids' playroom curtains. I promised weeks ago to turn it into a couple of floor cushions and a new doll-stroller cover. Easy really, I just can't seem to get myself in the mood to do it. Perhaps the kids will be kind to me and have an early bedtime tonight?
Feel like playing along with your creative space? Head on over to Kirsty's to leave your link and check out the other great spaces today.