Creative Space Edition May 6 – in which I finally manage to put foot to pedal and make up the cushions for our friends' playroom!
I had to curse at the (ancient) overlocker for a while (ok, it was silent cursing – I had 'helpers' nearby, after all) to make it behave, but in the end it all turned out nicely. I love this fabric – it's leftover from their playroom curtains – I think it's maybe from IKEA?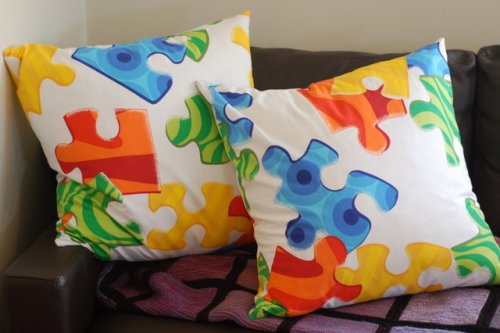 If you're making up big cushions (these are 60cm square), or anything which requires long zippers, I can heartily recommend this stuff:
Continuous zipper tape, with a bunch of pulls. You just slide all but one out of the way, cut to length, and away you go. Brilliant! (But, uh, don't be a wally like me and slide the zipper pull off the end. Several times.) I picked mine up from Lincraft, but you can probably find these anywhere. And in standard zipper as well, not just the invisible kind.
These are the cushions we have in our living area. This is another IKEA fabric (but without large areas of white, for heavy duty kid-usage. Will be interesting to see how the white ones go, but at least the covers can be tossed in the washing machine).
Creative-Space-along at Kirsty's place. Wonder if I'm the last to post today?