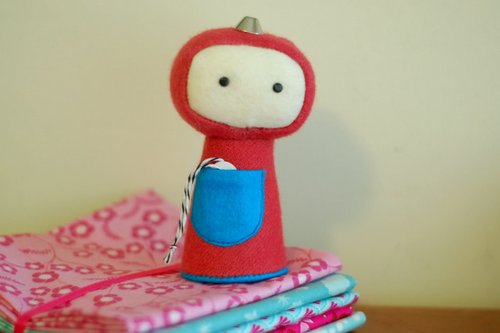 She turned out rather well, don't you think? The head was much trickier than I anticipated, and I'm not 100% happy with it, but I'll know for next time. This one is being put aside for a certain little girl's birthday (three short weeks away!)
I know it was a week ago, and you're probably already sick of Stitches & Craft recap posts (which can be found all over crafty blogland, if you're not sick of them!), but bear with me for just one last 'stuff I bought' recap, won't you?
From the perspective of a mum with a crafty 3-nearly-4-year-old in tow, there was lots of fun to be had for not much money (even if I didn't get to any or the workshops, which also looked like lots of fun). I took Niamh along, and our first stop was at one of the free craft bars, to sew this little butterfly brooch together (the project was for a bookmark, but Niamh insisted on it being a brooch, and who am I to argue?)
We also stopped by the MakeDo area to make this cute owl – which reminds me of Wall-E!
I let her pick out a scrap pack at Amitie for me to make her a little purse from. And beads were a mandatory purchase, of course. Plus the lucky girl scored a few freebies – the wee owl badge came from a friend of Holly's while we were stopped at the twocheeseplease stall (don't try telling Niamh that owls are out of fashion!) , the pinwheel came from Whirly Windmills, and Jodie's mum even gave her a mini Cherry Ripe (not pictured, obviously!)
I came home with a few pieces of fabric from Earthgirl fabrics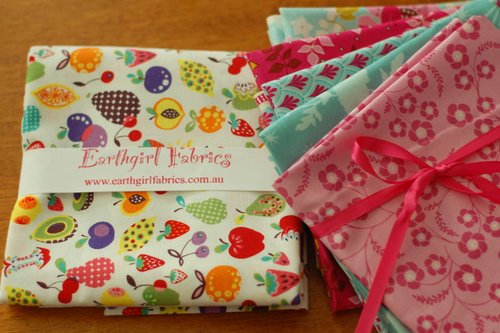 A sample pack of Cheeky Beaks fabric; and a kit to make a needle felted terrarium from Holly at twocheeseplease: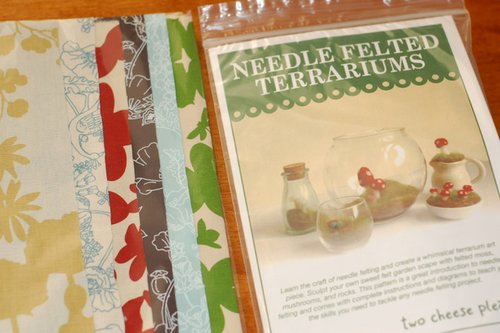 And this lot from Ric Rac. (I think I might need a Ric Rac frequent flyer's card, actually):
I thought I was remarkably restrained, considering how much more caught my eye. But I am supposed to be on a stash diet, so you know… it wasn't fantastic from that angle!
Now I'm off to get us all packed – we're off to my father-in-law's place to chill out for a couple of days and celebrate Dermot's birthday. Have a wonderful weekend everybody!
********
PS. Speaking of green-eyed-monsters, as I was yesterday, I am insanely envious of everyone attending the Sew It Together events this weekend. I was in hiatus from the blogging world (both writing and reading) while it was all being put together, so I completely missed the boat. Hope everyone has heaps of fun, and perhaps it will happen again next year. (To be completely honest, I probably would have been in a bit of trouble had I spent my husband's birthday at a crafty-day-out anyway :giggle: )