Started on Tuesday…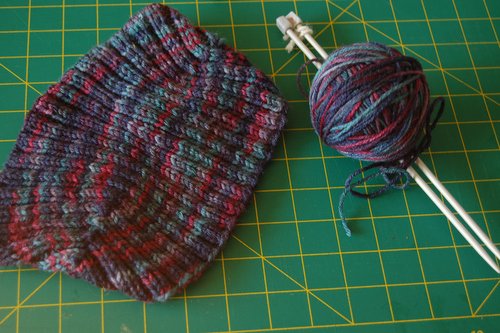 Finished on Thursday…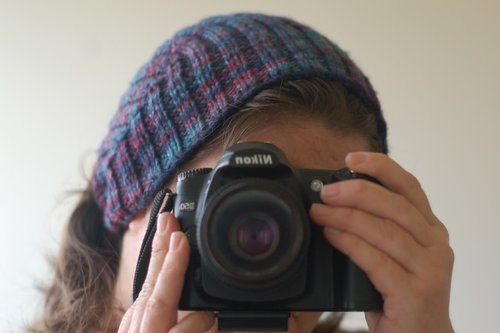 Ripped on Monday?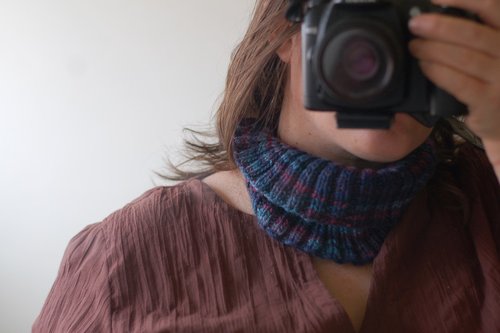 I prefer it as a neck warmer, actually. Ah well. Can't win them all, I say. Despite Lara's reassurances, I can't quite get over the feeling that I'm wearing a tea-cozy on my head! I'm just not a natural hat-or-other-headwear person. (Speaking of hats, and me wearing them, did you see Gypsy's post about Liesl's beret? I may not be a natural hat person, but that cracks me up!)
Anyway. I'm ripping. Calorimetry didn't use as much of this beautiful skein of Fibreworks Silk/Merino as I had hoped anyway. I plan to start again and just knit it as a simple 2×2 ribbed cowl, since I prefer the way it looks around my neck (the tapered shape of it means it isn't quite right as-is, or I wouldn't bother to start again). That way I can use up the whole skein, which was a birthday gift from Dermot last year 🙂
I've been feeling like a bit of a knitting fraud lately. (As in "how long until the real knitters evict me, because anyone can tell I don't really know what I'm doing?") But the fact that it doesn't bother me to rip it all out and start over makes me feel a bit more… I don't know, authentic, somehow? I enjoyed knitting this beautiful yarn the first time around, and I'll enjoy it again. The knitting process has gone from completely frustrating, to (almost) relaxing.
Meanwhile, I also broke my 'no more than one knitting project on the go at a time' rule. (Well, technically this was finished when I started the next thing!) I'm having a go at double knitting. S.l.o.w.l.y. (I take back what I said about knitting no longer being completely frustrating. Check back much later!)
Calorimetry ravelised here.