Five minutes after I left the house last Friday, guess what I remembered? The camera bag… left sitting on the change table at home. D'oh!
I didn't go back. I was already running half an hour late for a rendezvous with my dad to hand over a couple of kids (the smallest stayed at home with his dad, not ready to venture farther afield just yet). And besides… Sewjourn awaited 🙂 I did not want to miss one minute.
Many have waxed lyrical about the marvel that is Sewjourn. Even if I was capable of waxing lyrical at this hour (I am not), I could hardly do it justice.
It was ace.
There, how's that?!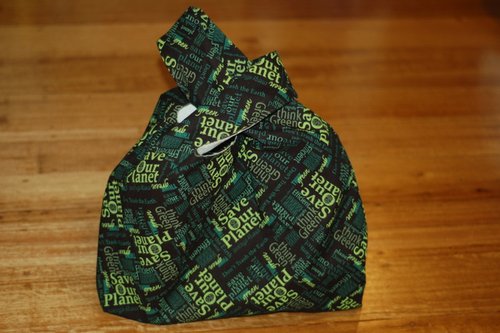 Seriously? I had a wonderful weekend, with a great bunch of crafty girls. We ate, drank and made merry into the small hours (well, some of us!), and I sewed a lot. Never mind the knitting, crochet, cross-stitch and some other bits and pieces that came along for the ride – they never got a look-in! It was all about the unencumbered sewing, and all about the GREEN, as you can probably tell. (Unplanned, that, though I should probably just accept that I do have a favourite colour after all).
In approximate running order, my crafty weekend went like this:
:love: Oven Mitts, this time for me. As before, made roughly to Sooz's Slack Arse Oven Mitts tutorial.
:love: A greener grocery bag. A tute for this one can be found here on Craftster. These bags are really strong, I love 'em. This one is for Mum. I am still making good on her Christmas present. The shame!
:love: My first ever Nikki bag – the Sling. Love love love.
(More on this later, as I do plan to write up a review of the pattern for Nikki's July competition).
ANNNNNND……..
Ta-daaa:
:love: My first finished quilt top! Well. Finished-ish 😉 At 3.30 Sunday afternoon, with flagging energy, and us due to vacate by 4, I decided that was as far as I was getting, so technically I still have to sew on the outermost rows of sashing. (And, you know, piece the back, sandwich it together and quilt the darn thing. I'm not sure this quilting malarkey is going to catch on with me you know – I'm all about the instant gratification.)
So big huge thank-yous to Cathy, Gypsy, Liesl, Caitlin, Bec, and day-trippin' Cam for having me along and being such excellent camp buddies. You girls rock!
(Liesl has some location shots over on her blog, btw, if you're more interested in what I didn't take photographs of!)
Hmmm. Perhaps next year I'll bring a quilt to finish.