He's a Blogging Superstar…

…and pretty good kid (mostly!)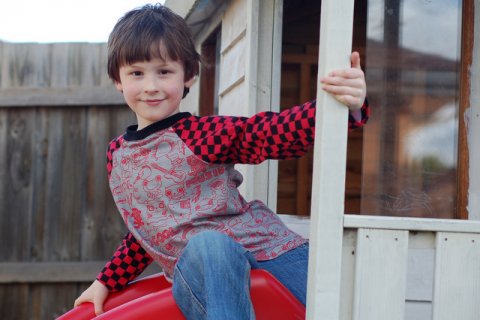 Thank you for all the wonderful comments on Finn's post. He was over the moon to receive each one. Every time my phone bleeped with incoming email, I had to check to see if it was for him :giggle:
He also 'Show and Tell'ed the blog at school – an, um, interesting side effect of letting him guest post, which I probably should have foretold. Not sure how I feel about being 'outed' to school! I don't think I'm in the habit of using naughty words though, so the Year 2's should be relatively safe.
Being involved with the blog certainly made Finn a more enthusiastic model today! He's showing off a top I made from New Look #6932 (the same pattern the PJ pants came from). The fabric is awesome too, no? I found it at Spotlight amidst all the boring stuff, and it brightened my day no end 🙂
Heh. I just noticed he's wearing this backwards – there's a seam in the center of the ribbing because it's the back! It looks otherwise the same – I guess I should think about creating/acquiring myself some labels so the kids can differentiate front from back.