You may have already heard the tale of the (thankfully not chocolateless) chocolate cake… it's already quite famous, you know. But on my return from the stashbusting expedition*, I found another waiting:
Sponge cake with strawberry jam, fresh strawberries and cream. Drooooool……
(Dermot's first ever sponge cake, he will have you know. What do you think Liesl, should we enter him for next year's Melbourne Show?!)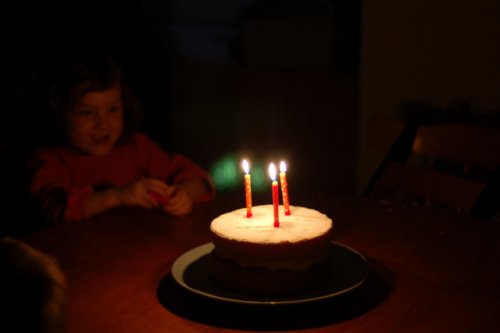 My birthday (one with a 5 in it) is, in fact, tomorrow, but Sunday is a much more celebration-friendly day, which is why we did it all today. (There is, however, an ominous bag of goodies awaiting kids-in-big-bed time in the morning. In the immortal words of Lola,I can't wait, I can't wait!)
It was delicious! (There's none left, by the way… but it's not quite as bad as it sounds, we did have guests come for yummo roast-chicken dinner as well, we didn't polish off the lot by ourselves!)
All that and the Finders Keepers market yesterday with Niamh too. An entirely satisfying weekend!
*If you follow that link you can find a picture of me blowing out the candles – I am clearly moving very fast… which is when I am at my most photogenic, I think**! Thanks Cam 🙂
**I also have quite the photogenic foot, as seen over at Bec's place. I point this out only to reassure you that I am not kicking Houdini-dog in this photograph, but merely scratching his chin with that foot (which left him in raptures, and my hand quite untainted by Houdini-dog smell!)