View from my seat…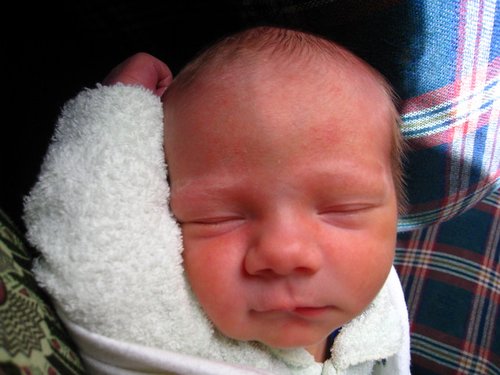 This was yesterday. The day when I should have been in hospital having a C-section! Instead, baby and I decided to stick it to the man, and I gave birth early Saturday morning following a fairly fast and furious labour. Sans epidural, what's more. Owwie.
So everybody please put your hands together for young Rohan Patrick. Born April 11th, 2009, at 3.23kg (or 7lb 2oz). I am so grateful to him for deciding to arrive in such a trouble free/surgery free way. I'm feeling significantly better than if I had just had a C-section, that's for sure. And I'm finally on some antibiotics for that other troublesome problem, so everything's coming out for the better. Unfortunately someone seems to have misplaced my order for "one who sleeps at night", so as soon as we get that sorted out, it will all be good :giggle:

Nothing untoward is going on here – this is just Rohan grooving to some tunes – his routine hearing test in the hospital (which he passed). I just think it's a cute pic!