'Tis late. We're not long back from 'doing' the Myer windows and the Boulevard lights – two Melbourne Christmas institutions if ever there were. With a stop off at Haigh's on the way. Yum. Two happy but tired kids fell asleep on the way home. I thought I'd show you a couple of recent finished objects before I do the same.
This cushion:

which is a long awaited finish (remember the work in progress?) from Finn. He finished it in time to show his teacher last week at his (sob! sniff!) last Kinder session.
The proud boy (since having a new camera – early gift from Mum, thanks Mum 🙂 – necessitated taking new playground shots of kids):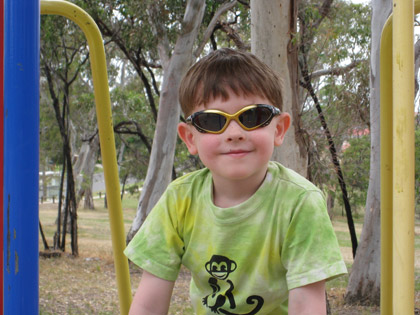 And a finish from me, which I probably shouldn't really be showing off yet, since it's still en route to the recipient:

This was for an ornament exchange on the Aus Xers yahoo group. I joined up before I realised what a slump in stitching I was about to experience. Blah. So I have to confess… I probably broke the rules a little bit. This stitched piece (a Drawn Thread freebie) was sitting in my 'to be finished' pile already(!) When I realised I had zero chance of getting something new stitched for the exchange, I picked this out and finished it up as a pillow ornament. Is that bad? Anyway, I'm not counting it as a finish for the year, but I do plan to restitch it for myself, because I think it's really pretty. If I manage to kick myself in the butt after Christmas is over, I might just get it done before '08!