Could it be the little trip away that has restored my crafting mojo? Or could it be the recent acquisition of a reliable overlocker? Either way, I have been studiously ignoring the housework for the past several days, in order to craft more. Oh, and bake macarons. As you do.
Nothing especially groundbreaking. The kids were in need of some more winter PJs – darn small people and their incessant growing! I had intended to just make pants and pick up some cheap plain colour Tshirts to go with them, but while I was flicking through some old issues of Ottobre I came across a Tshirt pattern, recalled some many meters of a green cotton knit fabric* hiding in the bottom of my stash, and thought, well, why the heck not. I do now have a suitable-for-polite-company-overlocker, after all!
The result:

This is the Slim Fit Tshirt from Ottobre 3/2007. And he doesn't like it! Well, he does, but I agree he could go up a size or two (the fit is… well, slim!) So I agreed to make another (not done yet), and instead earmarked this one as a coming-up-soon-birthday gift, and decided to give it a little extra character: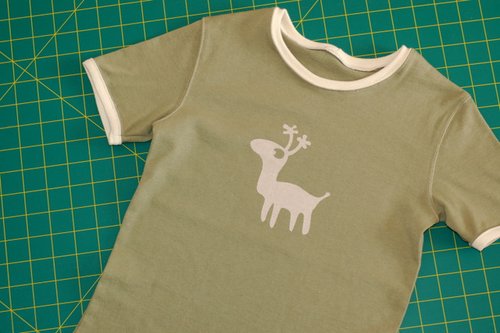 The deer(?) critter is also from Ottobre – the 4/2007 issue has a bunch of cute characters adorning the pages, so I just blew one up about 300% on the copier and stencilled it on using the freezer paper technique*. Perfect!
I got a bit cocky with the next T. Consequently? Not as good. But still good enough for a jarmie top:
(Yes, I know I said winter PJs, but my kids go light or nothing on top for bed all year round.)
The pants I made are from New Look pattern 6932. I didn't end up finding a nice simple pants pattern for all three kids in any of my Ottobre back issues, so I picked this one up. I think it was a good value buy – including pattern sizes from 6 months – 8 years, and several pant/top options.
Here are the first of Rohan's pants finished:
I have another two pair cut out for him, and another pair for Niamh, and some more Tshirts waiting as well.
Oh, and while I am slowing down your internetz with my pic heavy post, here's a couple more. These pants were not made recently (actually they were the pants I was making when Niamh tried to knock her front teeth out), but Ro finally fits into them:
The denim in these is from a discarded pair of my jeans, and the robot print, which I love, and will salvage once he outgrows the pants, is from GJs. (Who are on the brink of another 25%-off sale. Oh dear.)
So. That's what I've been up to. Now has anybody seen my house, it seems to have disappeared under a mountain of laundry. 🙁
——————————————————————————————
*The green fabric is leftover from when I made myself a Moby Wrap style baby carrier, back when Niamh was a smidge of a thing. I don't think I ever blogged it. When I went looking for a photo, the best I could come up with was this one. (That's Rohan in the wrap there, not Niamh). I miss slinging my babes around!
**I first learned about freezer paper stencilling on Craftster many a year ago, but the original post seems to be missing half its images. Amy Karol has a simple little tute on it here. I'm impatient and never let mine dry overnight though, I always blast it with the hairdryer!