I wasn't sure whether to show you this end: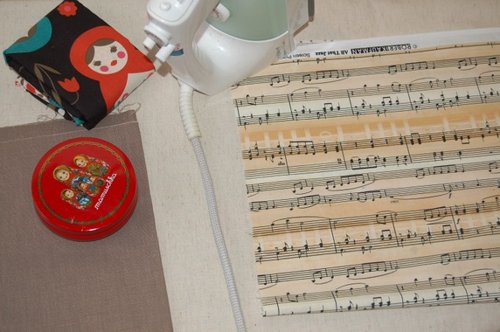 Or this end (eeeek):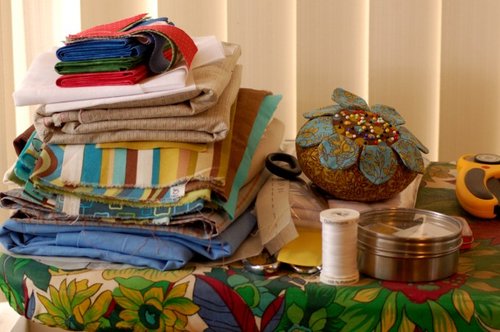 Of my creative space (aka "the ironing board", and yes, that hideous green-ness is the ironing board cover, and yes, a new one is on my to-make list!) today! This spot has obviously become a dumping ground for the remains of projects past. It was actually worse than this! I had to move things to iron a pair of school pants for Finn this morning (it's actually a rare occurrence that I iron clothes at all – but they were still damp!)
The Robert Kaufman music fabric up there is for a new bag for Finn's piano books. They're currently residing in last year's school reader bag, which is becoming increasingly, embarrassingly decrepit. Must really get onto that. The other pending project involves cutting a matryoshka doll out of that fabric and appliqueing it onto a white tee for Niamh. I get fed up with all the pink-pink-pink-pink-pink-purple-pink of little girls' clothing, so I've been meaning to do a few little things like this for her.
Oh, and while we're here, how about a finished object from a couple of weeks ago? Here's the patchwork ball I was working on in the car – it was surprisingly satisfying to hand-stitch something from start to finish. I need more handwork projects like this, I think.

For more creative spaces, pay Kirsty a visit 🙂