Christine, your comment about crazy stash acquisition made me smile… since going off the Wagon Challenge at the end of '05, I've been a bit crazy myself. I haven't always fully confessed, but needless to say, I haven't stuck to that 'goal oriented' plan I had 😳 My latest temptation was the SB&B Easter Sale, and I'm waiting on a couple of The Cat's Whiskers charts, Enchanted Mermaid, a Drawn Thread chart and some mesh bags. I think that's it!
Anyway, all guilt aside – first off today, a new fabric I dyed up recently. I adore this. It's a fat quarter of 28-count Lugana, and I dyed it with Mirabilia's Midsummers Night Dream in mind. I have just plugged it into the fabric viewer, and it does look lovely with that design, but there's a number of other Mirabilias it looks great for too – oddly enough, Enchanted Mermaid is one of them. I never envisaged a purple for that design.
I have a bunch of other white fabric just waiting for inspiration to strike – 2 FQs of Quaker (my personal favourite), 3 FQs of Cashel, and 2 more of Lugana. I also have a piece of Belfast I dyed but hate the results of, so I'm going to try over-dyeing that to see what I can acheive. Hopefully, if I get a bunch of satisfactory fabrics out of this lot, my desire for stash expansion will subside a little!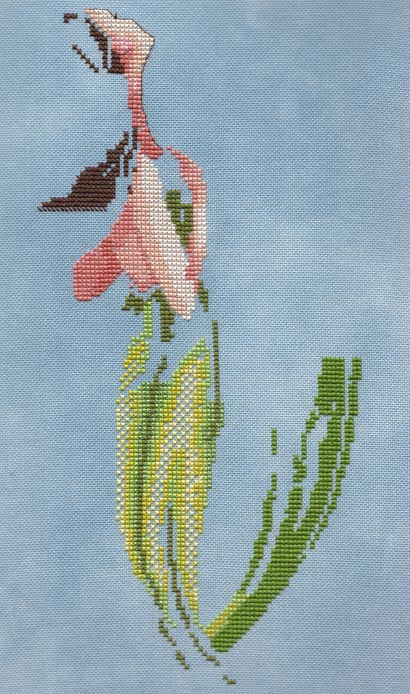 Next is my newest start – yet another Mirabilia – Mermaids of the Deep Blue. I seem to be going through a very definite Mirabilia phase at the moment 🙂 I'd estimate there's about 20 hours put into this so far, though I didn't record times so far. There's two weekends away worth of work in it, put it that way. I'm stitching this on hand-dyed Babbling Brook Jobelan – my first large piece on Jobelan, and I like it more than I thought I would, actually.