Wait a minute… there are TWO quilts in this shot!
I also (finally) finished the First Second Quilt! Did you guess? I'm sure you did. It made an appearance or three in Brianna's Craft Camp post, after all.
While we were there, once Quilt #1 was finished, I (finally) pieced up the back for this one, and then took advantage of all available hands to (finally) get it basted. The quilting and binding I (finally) completed last weekend. There was happy-dancing then, oh yes there was! Then I just had to wait for the misty-meisty Melbourne weather to let up for a bit so I could get a halfway decent photograph or two. And so…. (please to be excusing our hideously-neglected-because-it's-winter "garden" in the background):
The front: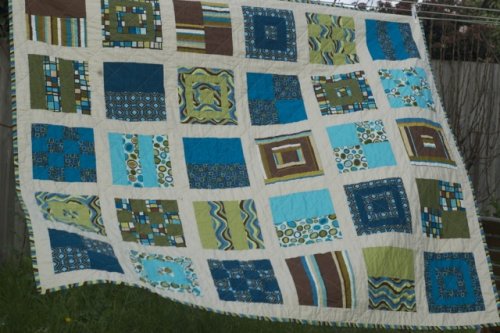 The back: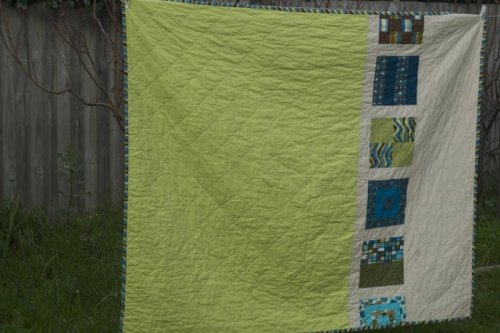 And the binding: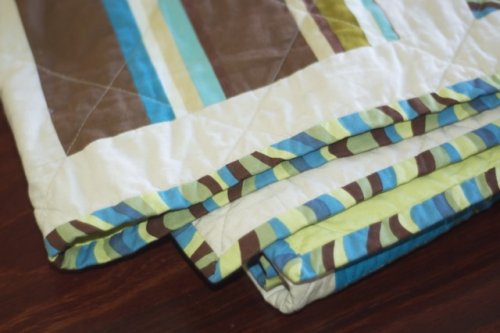 The design is the Mod Sampler Quilt by Elizabeth at Oh, Fransson. I found Elizabeth's instructions provided a really clear walk-through for this very newbie quilter (though at the end, I decided against free-motion quilting, and just went for a simple diagonal grid instead).
I can say, now that it's completely finished, I do love it. It just took me a while to get to the love. I think this is a successful 'man'-quilt, for my littlest man (who is refusing to have a decent photograph taken today):
Now let's see just how long it takes me to fulfil the quilty-requests of the rest of the family!