This is a bit of a filler post, I apologize. It's a bunch of stuff I made in January but never got around to blogging, perhaps because I was busy with the making, and with all that other stuff. So here you go:
I made this little artist-tote thingummy for Marita's daughter Heidi's birthday. The inspiration came from several places, but in the end I sat down and made it up as I went. Despite a few dud calculations, I think it turned out okay.

My sister stayed with us for a couple of days in January, and asked if I could make her a pouch for her new digital camera. The camera is shockproof and waterproof, so the pouch didn't need to provide super protection, just a barrier against scratching. The first attempt came out a bit small (bonus for me, as it's now my coin purse), but number two was a winner.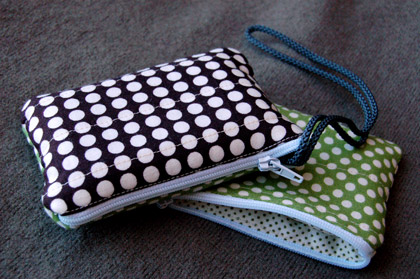 Next up, bibs (same spotty fabric!) for a friend's baby. This is where I shamefacedly admit I haven't sent them off yet, d'oh! Suzie, if you're reading this, I'm so sorry, and pretend to be surprised when you (finally) see them, okay?

Then, Finn's school library bag gave me the chance to use up some more of that mushroom fabric, plus co-ordinating colours picked by him (hence the yellow, of which I am less than fond):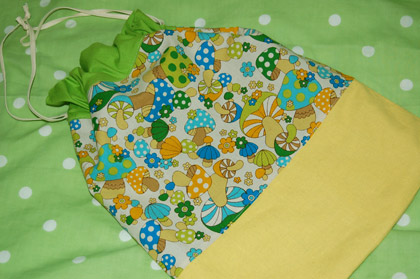 But wait. That's not all! I also made a green stripy grocery bag – no pic, but it's from this craftster tute. It was easy peasy, and I plan to make a bunch more. Aaaand, then, squeaking in on the last and second last days of January, I de-and-reconstructed a men's green shirt to make a school Art Smock. Yay!
And just in case you think I wasn't busy enough in January, guess what else I did? (This will make you fall down in disbelief, I promise)… I read FOUR books:
The Time Traveller's Wife (Audrey Niffenegger)
Other People's Children (Joanna Trollope)
I Choose To Live (Sabine Dardenne)
Dandelion Soup (Babs Horton)
(Of those, I heartily recommend the First and Fourth, but reserve merely a 'meh' for the others).
So now. I think you can guess what two of my New Year's Resolutions were!