When the opportunity came along at the right time last weekend, I raised my hand to test Nikki's lavender bag pattern, because I happened to be in need of a quick and easy crafty boost.
Ok, and also, I had an inkling that it might be the perfect fit for some certain someones. I was right: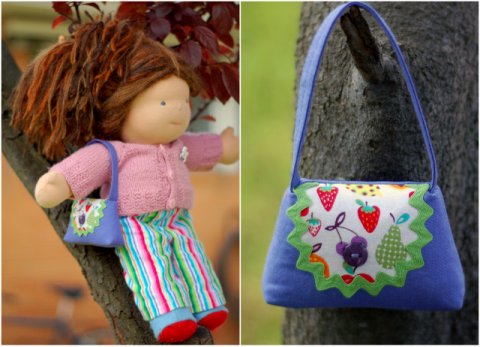 (You know, just in case you were in need of further evidence that I have gone a bit doll crazy!)
Cute, yes?! And smelly too (in a good way!) If you don't have a dolly who needs a handbag, you can hang yours in your wardrobe and have nice smelling clothes instead 🙂
You can find the pattern here, or a kit (including the pattern, plus bits and bobs you'll need) is available here. All complete with Nikki's most excellent instructions, natch!
No need to thank me!
PS. Hi – how are you? I know, it has been a while. I've been busy with… stuff! We're just back from a family trip to Perth, which was super-ace, and I should probably find time to post some pics. There may also be another doll-related-craft post in the works. Erm… sorry in advance! The doll thing kind of passed me by as a child, I think I may be developing a delayed 'habit'.